Description
The DeckLink Micro Recorder is a low-latency miniature video capture card for all SD and HD formats up to 1080p30. Compatible with computers that have a 1-lane Gen 1 Mini PCIe slot, SDI or HDMI video inputs can be added using the built in Hirose® and Molex® connectors.
Connections
PCIx1 Gen 1
PCI Express® Mini Card Electromechanical Specification. Note, however, that the HDMI connector height (8.0mm) exceeds the 3.0mm height specification.
Standards
SD Format Support
525i/59.94 NTSC, 625i/50 PAL.
HD Format Support
720p50, 720p59.94, 720p60,
1080p23.98, 1080p24, 1080p25, 1080p29.97, 1080p30,
1080i50, 1080i59.94, 1080i60,
1080PsF23.98, 1080PsF24, 1080PsF25, 1080PsF29.97, 1080PsF30.
Video Sampling
4:2:2.
Color Precision
8, 10-bit YUV 4:2:2.
Compliance
SMPTE 259M, 292M, 296M, and HDMI.
Available Accessories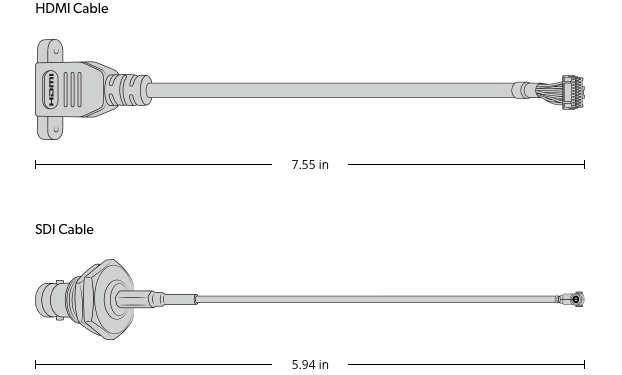 Part Numbers
DeckLink Micro Recorder, order code: BDLKMICROREC
HDMI Cable, order code: CABLE-BDLKMIR/HDMI
SDI Cable, order code: CABLE-BDLKMIR/SDI
Physical Specifications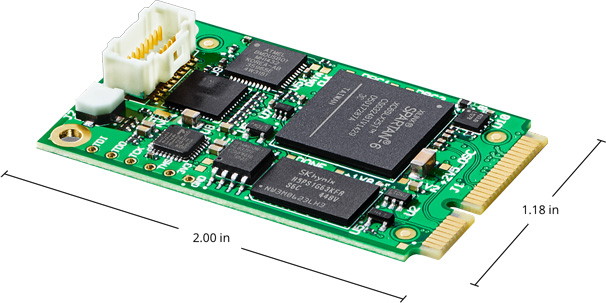 Power Requirements
Power Consumption
3 Watts max
Environmental Specifications
Operating Temperature
-25°C to 55°C (-13°F to 131°F)
Storage Temperature
-40°C to 75°C (-40°F to 167°F)
Relative Humidity
0% to 90% non-condensing
What's Included
DeckLink Micro Recorder
Warranty
3 Year Limited Manufacturer's Warranty.