Description
Fairlight Audio MADI Upgrade adds three coax MADI input and output connections to the single MADI on the Fairlight Accelerator card. That gives you a total of four MADI inputs and four MADI outputs for 256 inputs and outputs each at 24 bit / 48kHz!
Connections
MADI Inputs
3 x MADI inputs via 75 ohm BNCs
MADI Outputs
3 x MADI outputs via 75 ohm BNCs
Audio Channels
Total of 192 inputs and outputs
Bit Depth and Sample Rate
24 bit / 48kHz
PCI Form Factor
Single half length PCIe x4 board
Power
4‑pin computer power cable connector.
Hardware Requirements
Requires Fairlight Audio Accelerator.
PCIe Requirements
Connection to Fairlight Audio Accelerator using three SATA cables.
Fairlight Audio MADI Upgrade board requires no additional PCIe bandwidth.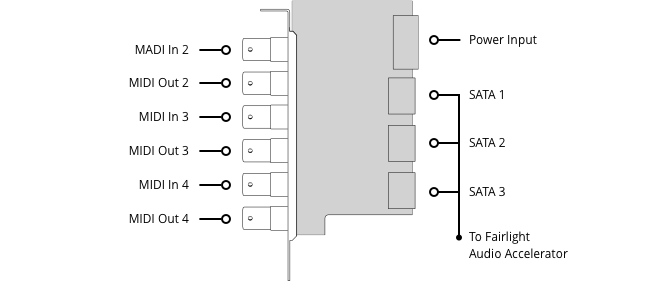 Physical Specifications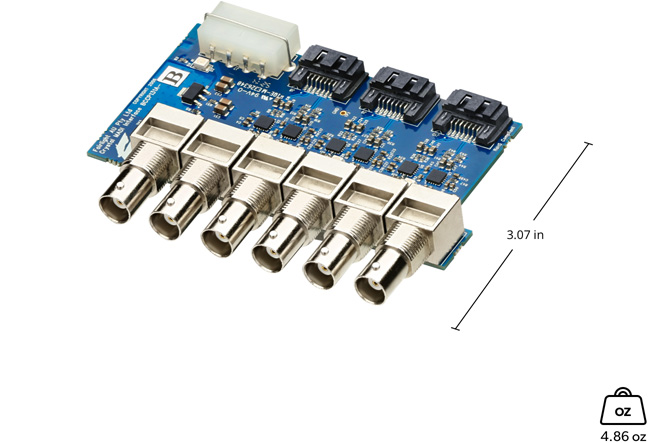 Environmental Specifications
Operating Temperature
0° to 40°C (32° to 104°F)
Storage Temperature
-20° to 60°C (-4° to 140°F)
Relative Humidity
0% to 90% non-condensing
What's Included
Fairlight Audio MADI Upgrade3 x 30cm SATA cables.1 x computer power cable.
Warranty
1 Year Limited Manufacturer's Warranty.