Description
Smart Videohub 12×12 is the world's most advanced Ultra HD mixed format router with built in control panel and monitoring. Ideal for small workgroups and fly away kits, it includes advanced 6G-SDI connections so you can simultaneously connect and route any combination of SD, HD and Ultra HD video all on the same router at the same time. You also get revolutionary new visual routing with the unique spin knob control, push button panel and the built in LCD screen. Also includes Ethernet for remote control and a fully customizable software development kit for Mac and Windows.
Connections
SDI Video Inputs
12 x 10-bit SD-SDI, HD-SDI and 6G-SDI.
SDI Video Outputs
12 x 10-bit SD-SDI, HD-SDI and 6G-SDI.
SDI Rates
DVB-ASI, 270Mb, 1.5G, 3G, 6G.
SDI Reclocking
On all SDI outputs.
Reference Input
Tri-Sync or Black Burst.
Control Panel Connection
Ethernet.
Serial Control Connection
RJ-6 RS-422.
Multi Rate Support
Auto detection of SD, HD or 6G-SDI. Simultaneous routing of 4K, HD, SD video and DVB-ASI.
Updates
USB
Front Panel Router Control
12 buttons for local control of Videohub. 6 buttons and scroll wheel for control of LCD display or RJ45 Ethernet.
Router Configuration
Via front panel LCD or RJ45 Ethernet.
RS-422 Router Control
1 x input for controlling router crosspoint switching.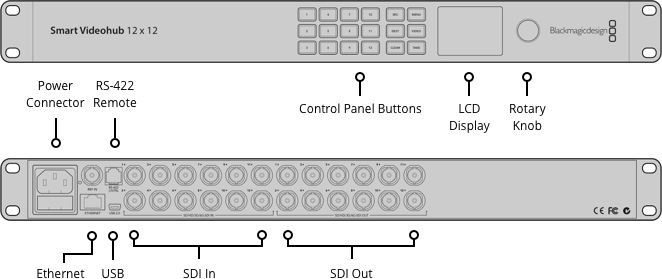 Standards
SD Video Standards
525i59.94 NTSC, 625i50 PAL.
HD Video Standards
720p50, 720p59.94, 720p60
1080p23.98, 1080p24, 1080p25, 1080p29.97, 1080p30, 1080p50, 1080p59.94, 1080p60
1080PsF23.98, 1080PsF24, 1080PsF25, 1080PsF29.97, 1080PsF30
1080i50, 1080i59.94, 1080i60
2K Video Standards
2K DCI 23.98p, 2K DCI 24p, 2K DCI 25p
2K DCI 23.98PsF, 2K DCI 24PsF, 2K DCI 25PsF
Ultra HD Video Standards
2160p23.98, 2160p24, 2160p25, 2160p29.97, 2160p30
4K Video Standards
4K DCI 23.98p, 4K DCI 24p, 4K DCI 25p
SDI Compliance
SMPTE 259M, SMPTE 292M, SMPTE 296M, SMPTE 424M, SMPTE 425M Level A and B, ITU-R BT.656 and ITU-R BT.601.
SDI Video Sampling
4:2:2 and 4:4:4
SDI Audio Sampling
Television standard sample rate of 48kHz and 24 bit.
SDI Color Precision
10-bit 4:2:2 and 4:4:4
SDI Color Space
YUV or RGB.
SDI Auto Switching
Automatically selects between SD-SDI, HD-SDI, 6G-SDI and DVB-ASI on each input so that each input can be running a different television standard.
SDI Metadata Support
Video payload identification ancillary data as per SMPTE 352M.
Control
Built in Control Panel
12 buttons for local control of Videohub with 6 buttons and scroll wheel for menu control. 2.2 inch color display.
External Control Panel
Includes Blackmagic Videohub software control panel for Mac and Windows. Supports Blackmagic Smart Control and Blackmagic Master Control hardware panels. Includes Blackmagic Videohub SDK and Ethernet Videohub Control Protocol.
Software
Software Control
Router control included free for Windows™ and Mac™.
Internal Software Upgrade
Via included updater application.
Display
Built in LCD for video and menu settings.
Power Requirements
Power Fail Protection
Router connections preserved and restored instantly at power on.
Power Supply
IEC power cable required. 100 – 240V AC input.
Physical Specifications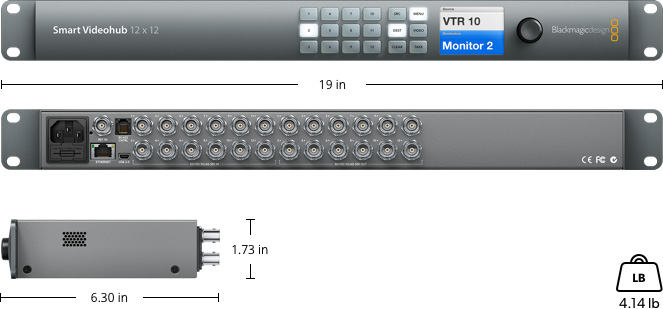 Physical Installation
1 rack unit size. Less than 6 inches deep.
Environmental Specifications
Operating temperature:
0° to 40° C (32° to 104° F)
Storage temperature:
-20° to 45° C (-4° to 113° F)
Relative Humidity:
0% to 90% non-condensing
What's Included
Smart Videohub 12×12
Welcome wallet with QR code for software download
Warranty
3 Year Limited Manufacturer's Warranty, and 12 Month Warranty on the front panel.